There was a time not so long ago that when you said super-bike, Harley-Davidson is what came to mind. This bike is a tribute to those times when HD ran supreme on the race tracks and the cafe race bikes of the 50's and 60's.
This bike is not just another pretty face in the crowd. No matter where the V-TWIN Café goes, it draws a crowd. No fancy covers, no "Live to Ride" chrome. This bike was designed to be very functional on the street and the race track. Drag racing, land speed racing, a quick dash down a winding country road, cruising on Main Street in Daytona or just sitting down at the local watering hole are all on the menu for this motorcycle.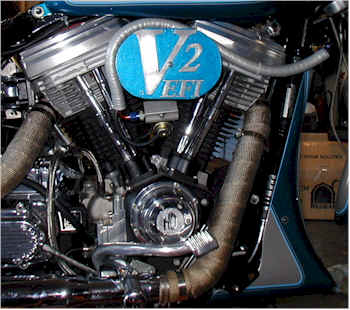 As seen on Born To Ride TV September 21, 2003
When you want to make serious power with an engine on the street you need to accurately control the fuel that goes into the engine. The only way to provide fine control across the entire RPM range is with fuel injection. When I went looking for a suitable EFI system for this engine, there were no suitable systems. The only solutions was to build a performance EFI throttle body and ECU for my Harley-Davidson. The result was the MAD-EFI system that is now available for EVO, Twin Cam and XL engines from Taylor Marine.
With a massive throttle plate measuring 2.750" by 2.125", the intake manifold and ECU used with this EFI is capable of supporting in excess of 200 horsepower in a normally aspirated engine. When creating a performance part we took the approach of "take no prisoners".
General Information
Owner: Stephen Mullen, Oldsmar, FL
Year: 1994
Model: FXDL Dyna Low Rider
Time to Build: Who said it was finished?
Value: $21,500
Frame
Year: 1994
Type: Stock Dyna

Engine and Performance
Year: 1994
Model: EVO
Displacement: 97 CID (4.25"B x 3.813"S)
Cases: STD
Cylinders: Axtell 3 13/16"
Crankshaft: JIMS
Connecting Rods: JIMS
Oil Pump: S&S
Assembly: Owner
Ignition: Crane HI-4E
Coil: Crane
Heads: Screamin Eagle
Porting: CycleRama, Pinellas Park, FL
Pistons: JE 11.0:1
Cam: CycleRama - .660 Lift
Lifters: JIMS
Pushrods: JIMS Titanium
Rocker Boxes: S&S
Custom Fuel Injection : Owner/MAD-EFI
EFI Manifold: MAD-EFI by Taylor Marine
Air Cleaner: K&N
Fuel Pump: Holley marine use pump
Pipes: Modified Khrome Werks AR-100
Gaskets: Cometic
Dyno Tuning Facilities: CycleRama
Engine Horsepower: 122 HP @ 6200 RPM
Engine Torque: 95.3 Ft. Lb. @ 4700 RPM
1/4 Mile results: 11.30 @ 122 MPH
Certified Top Speed: 137.814 MPH
Accessories
Bars: K&N XLH Style Super Bars
Grips: H-D Custom
Risers: HD
Seat: Mustang
Front Spoiler: Arlen Ness
Fairing: Tracy (modified by owner)
Front Pegs: HD
Rear Pegs: What rear pegs
Fuel Valve: Pingle
Other: Wayne Pollack Custom Torque Arm
Shift Light: DynaTek
Data Acquisition: Race Technology
AFR Meter: Simple Digital System
Oil Cooler: Jagg

Transmission
Type: Stock HD 5 Speed
Modifications: Back cut gears
Modifications: Andrews 2.94 1st gear
Transmission Sprocket: 32
Wheel Sprocket: 70
Clutch: Barnett Scorpion
Suspension
Front Forks: H-D with WORKS Performance dual rate springs
Rear Shocks: WORKS Performance shocks
Ride Height: Raised 1/2 inch
Wheels
Front: Cast H-D 13 Spoke 19"
Rear: Cast H-D 13 Spoke 16"
Tires
Front: Dunlop GT501 100/90-19 V-rated
Rear: Dunlop GT501 130/90-16 V-rated
Paint
Paint: H-D
Special Paint: "Reverend Jim" Goodrich
Color: Aqua/Silver/Sky Blue
Graphics
V-2 Café Mural: Susan Everingham


Last modified March 26, 2009