A Very Personal Farewell & Tribute to
Audrey Gerhardy
by Virginia Zurflieh
My husband, Jason, and I first met Audrey Gerhardy in the 1970s, when she wrote to us about purchasing a foundation bitch for the new beginning of Gerhard Boxers, which Audrey hoped to re-establish after several years of absence from the boxer showring. At the time, we had a pointed 18 months old flashy brindle bitch from the second breeding of Ch. Gray Roy's Minstrel Boy to our beloved Ch. Scher-Khoun's Tarantella. We had just finished a dog from the first breeding plus a bitch that we had purchased, and couldn't afford to do justice to this new bitch, too. So we sold "Teddy" to Audrey, and she flew to Iowa and her proud new owner. Audrey was as good as her word, and Teddy was finished in short order. From that point on, Gerhard Boxers was a force to be reckoned with in the Mid-Western show rings.
While waiting for Teddy to come into season, Audrey decided to get a little experience in the showring herself, and started specialing her new champion. By the time Teddy was ready to be bred, Audrey had won 22 BOBs, a specialty BOB, and three Group Firsts (at a time when the Working and Herding Groups were still combined) - all owner-handled!!! Audrey bred Teddy three times. She produced three champions, including the ABC SOM, Ch. Gerhard's Lamplighter. Audrey owner-handled all her home-breds from then on, working from her old motor home with her son, Rod, always at her side. Audrey's special favorite, with a breathtakingly beautiful head, was her Ch. Gerhard's Sparkling Cascade - "Wendy" - with whom she also won several groups and specialties. Despite a very limited breeding program, Audrey produced another SOM, Ch. Scarborough Norman Knight, and a DOM, Ch. Gerhard's String of Pearls, the foundation bitch of Vancroft Boxers.
In latter years, Audrey applied for her judging license, and was soon judging all over the U.S., until her health began to fail. Even so, she judged at a local show a week before she died, and was slated to judge dogs at the 2000 ABC Specialty.
Although she will not fulfill that coveted assignment, I know that Audrey will be present at that ABC in the hearts and minds of the many fellow breeders and exhibitors who knew and loved her, with Teddy and Wendy on the other end of her lead again, forever young and beautiful and full of Boxer Spirit - the eternal image of the breed Audrey loved so much.

Audrey winning BOB from the 6-9 puppy class under judge John Connolly with "Wendy" - Ch. Gerhard's Sparkling Cascade.

Audrey and Wendy - Group I. Judge: Bob Forsyth. July 4, 1982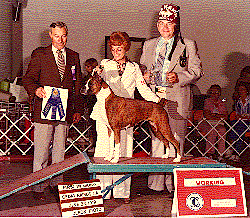 Audrey and "Teddy" - Ch. Scarborough City Lights taking a Group I, owner-handled! 6/23/1979