Performance and Technical information on cylinder heads, valves, valve sizes, valve springs, port size, port shapes and compression ratios for Harley-Davidson motorcycles.
Cylinder Heads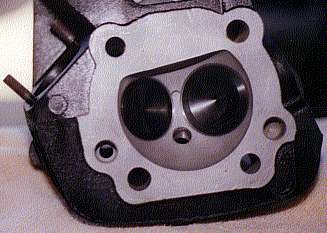 This what a stock EVOLUTION combustion chamber looks like with stock sized valves. This head came off an 80 CID engine that produced 101 horsepower.
Contrary to popular myth, serious power can be made with stock Harley-Davidson heads without reshaping the combustion chambers, polishing the ports and combustion chamber, using a larger intake valves or making the ports larger. A good 'street or pocket' port consists of improving the air flow around the valve seat and valve guide areas of the head. A good 5 angle valve job is performed, and the heads are ready to go on the bike. Heads reworked in this manner should see increased air flow over stock heads of 10-15%. That should be more than enough to create a 90 HP engine with the proper pistons, carburetor, camshaft, exhaust system and ignition system.
What goes into a good set of performance heads? All you need is the proper port shape, the proper valve sizes to allow good air flow, the right springs to keep the valves properly seated and the right compression ratio for the power you want.
Proper installation of the cylinder heads is critical to engine life and performance. Did you know there are two different ways to install the cylinder heads on a Harley-Davidson engine? Instruction are provided for both ways.
To learn more about cylinder heads, port design, valve sizes, compression rations, installing a new set of heads and more, just click on the item in the menu you want to know about.
Cylinder Head Installation
Cylinder Head Bolt Torque Values
Compression Ratios
Cylinder Head Port Design
Cylinder Head Valve Sizes
Cylinder Head and Piston assembly
Rocker Box
Bolt Torque Values