Performance and Technical information on pistons and cylinder assembly for Harley-Davidson motorcycles.
Pistons and Cylinder assembly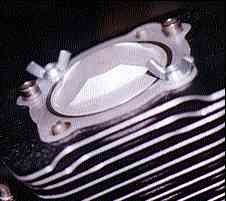 High compression pistons can boost the power output of your engine. This shows the 10.5:1 compression ratio pistons that were used in an 80 CID engine that produced 101 horsepower.
Contrary to popular myth, serious power can be made with stock Harley-Davidson heads without reshaping the combustion chambers, polishing the ports and combustion chamber, using a larger intake valves or making the ports larger. Changing the stock pistons for a set of high compression pistons can add a lot of power to your engine. When high compression pistons are used along with a set of heads with a good 5 angle valve job and set of performance valves, you can create engines with 90+ horsepower.
To learn more about pistons and cylinder bores, just click on the item in the menu you want to know about.