What has 183 horsepower at the rear wheels, weighs 1300 pounds, has 2680cc, 4 wheels, 4 cylinders and two carburetors. The latest German sports car? A sports touring car from Japan? No, it is a pair of H-D Dyna's owned by Steve and Patricia Mullen in Florida. Specifically, the bikes are a 1994 FXDL Dyna Low Rider ridden by Steve named the "V-Twin Cafe" for obvious reasons once you see the bike and a 1997 FXD Super Glide ridden by Patricia that is "Simply Red". OK, "enough" you say. You understand the 2680cc, 4 wheels, cylinders and weight thing, but about that horsepower! It seems a bit high, who do you think you are kidding! Over 90HP each for 80 CID engines might be an exaggeration. Oh contraire my friend. As a matter of fact, in the course of this article you'll learn how to put together an 80+HP engine over a weekend.
These are not your average Dyna's, especially when it comes to horsepower. To be truthful, the 94 FXDL doesn't make 90HP, its making 101HP. The "girls" bike is only making a "wimpy" 82 HP with 87 foot pounds of torque. Don't think these bikes sit around the garage because the engine are fragile. The 94 FXDL has over 45,000 miles on it,and the 97 FXD is over 12,000 miles. These bike are ridden often, and hard. And you need to remember these are 80 cubic inch engines.
These engines still look stock. The cases, flywheels, cylinders and heads are from Harley-Davidson? Many riders do not believe that these engine work as well as they do, since the path to big horsepower for most riders is a stroker or a bunch of aftermarket parts. These bikes were built around the basic foundation provided by the stock EVO engines. Let me regress a little bit and let you know why this little bit of braggadocio was put on paper. I was very disappointed in the horsepower of the bikes listed in HD performance magazines. There was no inspiration in a sea of 75HP 80CIDand 90HP 103 CID engines. Being a certified "speed junkie" after many years of racing 4 wheelers, I decided it was time to build an engine to my own specifications.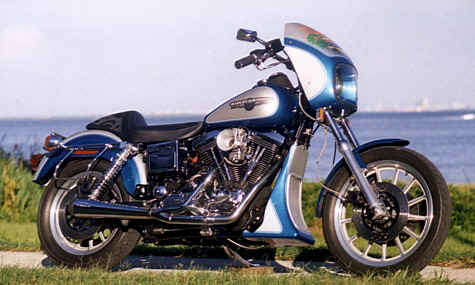 Enter one mostly stock 94 FXDL I had been riding for a year. Visually, the bike was headed in the direction that I wanted. The suspension and handling had been improved dramatically over stock with the addition of WORKS Performance rear shocks and front springs. The bike had a lot of the look and feel of a 60's era Cafe Racer. All that was missing was a more potent engine to match the look of speed. The bike had already made a couple of trips to the local dyno shop for tuning. The performance of the bike was already quite good, with just over 60 horsepower at the rear wheels accomplished with just a little tuning of the CV, a new ignition and a set of SuperTrapp 2-1 pipes. But the "need for speed" was overwhelming. I'd thought about just adding a cam, but that didn't meet the goals I had set for my engine program. The goal was to build a high torque engine capable of producing 80+ ft. lbs.
An engine designed without regard for horsepower is a "foreign" idea to the average HD shop. They talked horsepower, the newest cams, aftermarket carburetors, drag pipes ,and "porting and polishing", but never mentioned improved "torque". And none of the shops had a dyno for testing and tuning. How did they know what improved power on the bikes that changed? If I was going to spend portion of my hard earned income on a bunch of parts, I wanted some reasonable assurance of success. I also wanted to know that the shop I chose had a track record for creating good engines. To make a long story short, after a lot of asking questions and listening to answers I chose the last shop in the world the average Harley rider would have gone to. The shop that had the best answers to my questions was a sport bike shop that specialized in Japanese drag bikes. Yes, they had done a Harley before, exactly one prior to my engine. But they knew how to make horsepower. After all we all know the engine is just one big air pump.
The top end of my 94 FXDL was torn down, the heads and cylinders were handed over to a shop that had done exactly one EVO engine prior to mine. Was I concerned? Maybe a little. After a couple of weeks, the modified heads were returned, a set of JE 10.5:1 pistons had been fitted to the cylinders and the camshaft had been chosen. The cam didn't have a .600" lift, heads didn't have oversized valves in them, the combustion chambers were not polished to a mirror finish, the ports had been welded up and omigod!; they are smaller than the stock ports. There is no way in hell this is going to work. Its hard not to have this reaction if you always believed it took bigger of everything to have an engine make good power.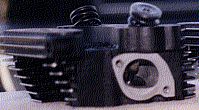 I knew what to expect before I saw the heads. It seems that the shape and the size of the ports in the EVO engine are in need of change. Smaller ports are used to promote high air velocity through the ports and into the combustion chamber. The high air velocity promotes good swirl in the combustion chamber. Good swirl in the combustion chamber promotes efficient burning of the fuel. Efficient burning of the fuel means more power. More power means more fun! The engine was re-assembled in short order. A couple of hundred miles was required to break in the rings. To the dyno to tune the engine and evaluate the results. The results were in, 81 HP and 85 foot pounds of torque. Success!! We managed to create an engine with a CV carburetor that broke 80 horsepower. I was told you couldn't build a performance engine with a CV on it. Did I mention 4 weeks of down time and more than a few dollars invested in getting there.
This was supposed to be a story about a 101HP engine, so far only 81 have been counted. During the course of dyno tuning the bike, the dyno indicated that the engine was running out of air in the upper RPM range. A Mikuni HSR42 was recommended for improved breathing. A good idea, but was put on hold temporarily. Fast forward a few months, and the Mikuni was added to the bike. It was hard to imagine how much more fun it could be with a few more ponies pushing the bike around. If you have been on an 80 HP bike, you already know what I mean, if you haven't yet, find a way to ride a bike with at least 80 HP. You will return with a big smile on your face.
1994 FXDL Engine Description
| | |
| --- | --- |
| | Heads: Modified H-D |
| | Valves: Stock Size |
| | Pistons: 10.5:1 JE |
| | Carburetor: Mikuni HSR42 |
| | Ignition: Crane HI-4 |
| | Camshaft: 252 duration w/.550" lift |
| | Exhaust: SuperTrapp 2-1 |
Tuning and more tuning. The damn thing only went to 85HP. All the talk about how well performance carburetors work and now only 4 HP. So much for the fallacy that CV's don't work well. Seemingly stuck at 85HP, some changes to the exhaust seem to be in order. Nobody pulls the baffles out of a SuperTrapp 2-1 pipe to make more power, right? You wouldn't believe how wrong that statement was. Horsepower jumped 85HP to 95HP by removing the baffle from the exhaust and a little more dyno tuning. The torque is monstrous at 95 Ft. Lbs. This 80 CID engine is now making power more like a big stroker than an 80 cubic inch engine. By this time, the 94 FXDL had turned into a test "mule" for the sport bike shop that was helping me. Seems that good performance gets attention, and a few riders had heard about the performance of the little 80 that could.
I was a certified "horsepower junkie" by this time, changing components and testing the results. You can learn a lot about advertising claims when you dyno test parts installed on a properly tuned bike. Seems that most "performance" claims advertised don't stand up very well to good testing. Meantime, this is still a story about a 101HP engine.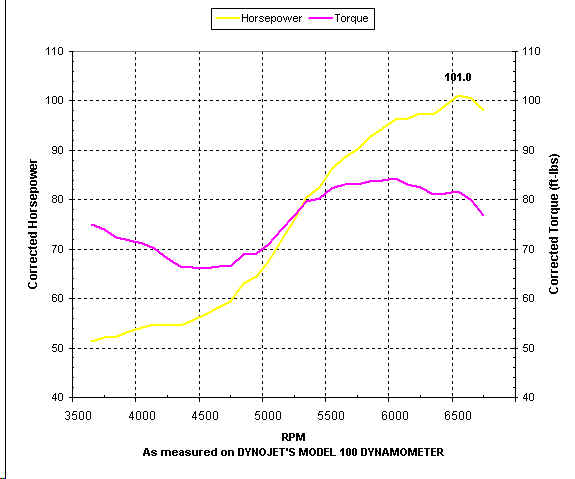 A pile of almost new parts began to accumulate in my garage. Ignition modules, spark plugs, exhaust pipes, plug wires, coils, super lubricants; all tested and failed to make the grade. When you get an engine to 95 HP, you just gotta try for 100HP. It's a magical mark for big twin owners. Many well know Harley performance legends chased this mark for years, trying to create a streetable 80CID, 100HP engine. I was close, and was bound and determined to find the combination. Parts; I need more parts. Bigger, faster, whatever it takes. Pull off the heads, blueprint the top end to closer tolerances. Set the squish area. A little more power. A cam, the world for a cam that will get my little 80CID to the century mark. A custom grind with almost 270 degrees of duration and .600" lift is made, installed and tested. The results begin come in as the number of dyno runs increases; 98 HP, 99 HP, 101HP. I made it. 101 horsepower from an 80CID engine that was only supposed to make 80 ft. pounds of torque.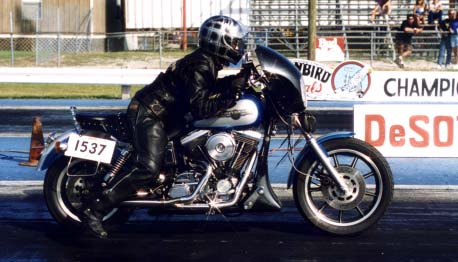 The real moral of this part of the story is that 100 horsepower at the rear wheels of an 80 CID EVO engine is a difficult and expensive proposition. Horsepower is built on money. Speed takes horsepower. How fast do can you really afford to go? In the case of the 94 FXDL, it is running 11.88 seconds in the quarter mile at 113 MPH. This is probably an 11.6 second bike, unfortunately it has a 12 second rider. How much did it cost? You really don't want to know.
Remember the 97 FXD Super Glide at the beginning of the story, "Simply Red". There was also mention of being able to build an 80 horsepower bike in a weekend. I'm about to get around to that. What does it take to increase the horsepower of a Stock EVO engine by 60%? For me, it only took purchasing Patricia, my wife, a new FXD (the Sportster "no longer suited" her riding style), one year of documenting the results of my modifications and a few well chosen parts from the local Harley dealer.
With my wife now having her own FXD, there was a place for the "hand-me-downs" performance components to be used. Seemed to be a logical way to save a few bucks, so the Super Glide inherited some of the first changes made to the Low Rider. Harley-Davidson Slash Cut Slip-on Mufflers, Screamin' Eagle Air Cleaner kit and a CV carburetor with a Dynojet kit were all installed on the Super Glide from my stock of used parts. To allow the engine to take advantage of the increased air flow capabilities, a new Screamin' Eagle 6000 RPM ignition module, SE coil and a set of Magnecor 8.5mm plug wires were installed. The Super Glide was put on the dyno with 64HP resulting from the combination. Not bad at all for bolting on a few parts, especially considering my last attempt at bolt-on horsepower on the Low Rider resulted in 60 hp. I had created a classic Stage One bike.
Stage One Parts
| | |
| --- | --- |
| | Slip-on Mufflers |
| | High Performance Air Cleaner |
| | Rejetted Carburetor |
| | 6000 RPM Ignition Module |
| | High Output Coil |
| | High Performance Plug Wires |
The Super Glide was a very strong running Stage One bike. So with 64 horsepower at the rear wheel, you might think that I'd leave well enough alone. Remember the "horsepower junkie" thing? I saw the engine as "only 64 HP" and that was not good enough. Seems I had an Andrews EV-46 sitting in my stack of used parts. This cam is a pretty good choice for a lighter bike, if you don't mind the relatively high power band it creates. But being a bolt-in cam, my cost of installing it would be a cam bearing and a couple of gaskets. So after a few months of running the bike as Stage One, it went into my garage on a Saturday, emerging Sunday with the EV-46 installed. The first thing you notice with a cam like the EV-46 over a stock cam is how easily the engine accelerated to the 6000 RPM rev limit of the SE ignition module. The engine felt pretty good, but I hadn't set much in the way of expectations for the dyno results. I was wrong! On the dyno, the bike' power had increased to 74HP. A gain of 10HP by simply bolting on a cam. The interesting thing about this is that the jetting in the carburetor and the ignition timing were not changed from their Stage One settings. I now had a strong Stage Two engine, and some very nice power at the rear wheels.
Stage Two Parts
| | |
| --- | --- |
| | Torrington Cam Bearing |
| | Bolt-in Camshaft |
Lets do a little re-cap of what has been done the Super Glide so far. Upgraded exhaust, new air cleaner, carburetor re-jetting, ignition module to raise the rev limit, high output coil, high capacity plug wires and a bolt-in camshaft. My minor investment had resulted in a 20 horsepower gain over the stock 1340 engine. The changes made to the bike so far were very common for most riders, the primary difference between what the average rider does and what I had done is document the results and extensive dyno tuning. I'm not even going the mention the drag pipe thing, and how they can hurt mid-range performance of an engine. But I will tell you that the decision making process that went into the components used in the Super Glide's engine was based upon research and experience. The parts were chose because the met the criteria to create a strong running engine.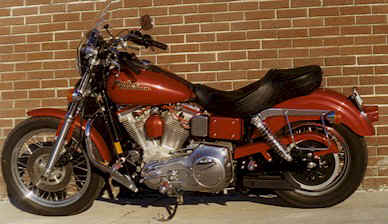 At 74 horsepower, the engine's performance would be considered excellent by all but a small percentage of die-hard performance enthusiasts. It's that HP junkie thing again! Even I was considering leaving the engine at its current state of development; well, maybe milling the heads a little bit would be in order, but then Harley-Davidson introduced the new Screamin' Eagle 1340 EVO heads. I had several months advance notice on these heads and the excellent air flow characteristic they had. When I saw the cost of these heads that could be bolted on, it didn't take me long to figure out that I was going to install a set. Think about the costs; the list price on the SE heads is $800 and you can sell a used set of EVO heads for $300-$350. You are able to bolt on a set of high performance heads on your bike for about $500. It would be difficult to have a set of stock EVO heads ported and rebuilt for that cost.
Stage Three Parts
| | |
| --- | --- |
| | Screamin Eagle Heads |
| | Adjustable push rods |
The new Screamin' Eagle heads were ordered from my local dealer, and in a few days later they arrived. The design of the ports on these heads is similar to the shapes I have seen on Harley engines producing serious power. One of the keys to higher horsepower output is increased compression the SE heads provide. The compression ratio is raised to 9.5:1 when these heads are installed on a stock bike. These heads should do the trick. The Super Glide was wheeled into my garage in the morning and the bike rolled out that evening. The installation was simple. These heads bolted on with a problem. A set of Screamin' Eagle adjustable pushrods were used to ensure no problems with final assembly. Time for another set of dyno runs.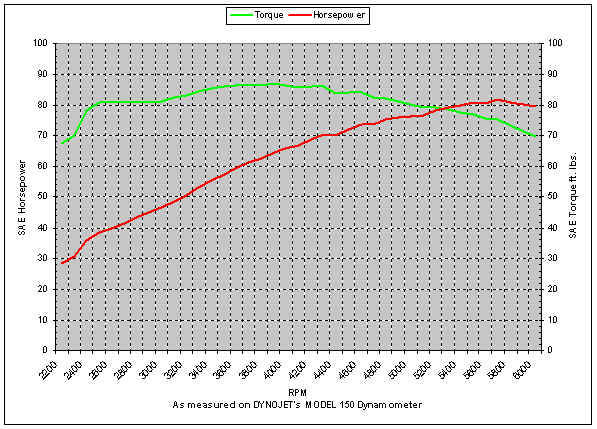 The first run on the dyno was a little disappointing. The bike has only producing 78 horsepower, but the information gathered by the computer indicated that the engine was running a little lean through out the RPM range. A quick jet change to the CV and another run. The low end of the RPM range seemed ok, but the mid and upper range was still lean. This required raising the jet needle in the CV carburetor. After raising the needle, the horsepower was up to 80 and the power curve was very smooth. The ignition timing was advanced another 2 degrees over the initial setting and the horsepower was up to 82. Not quite the 84-85 horsepower I had hoped for, but the engine was producing 87 foot pounds of torque. The engine was also hitting the 6000 RPM rev limit of the SE ignition module. There is no doubt in my mind that a higher rev limit would have resulted in 2-3 more horsepower, but this was a street engine. The 6000 RPM limit will do for now.
All the parts that went into building this 82 horsepower engine can be found at your local HD dealer and installed over a weekend. If you have reasonable mechanical skills, a good set of tools, a service manual for your model bike, all the parts required and a free weekend the 82 horsepower engine can be recreated. There is even a great deal of flexibility in choosing the parts that are used, as long as the replacement part is similar to what was originally used.
So there you have it. Two bikes with a certified total of 183 rear wheel horsepower between them, and an 80+ horsepower engine that can be created by bolting on a few parts to your bike over a weekend. Did I mention the the 82 horsepower engine produces more torque that the 101 horsepower engine?
If I can do it, anyone can.