Selecting the correct camshaft for you bike can be confusing and frustrating. The more popular cams available may not be the right cam for the way you ride or the type of bike you have. A cam that is installed in a show bike featured by the 'biker' magazines may not be part of a proven engine performance combination. When it comes to improving your bike's performance by installing a cam, you should deal with a reputable performance shop and a proven record on improving power.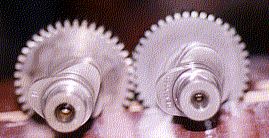 A stock cam is on the left, a 268 degree duration cam with a .600" lift is on the right.
In order to get the best performance, the camshaft must be matched to all the other engine components. The combination of carburetor, intake manifold, head design, flow characteristics, valve size, bore, stroke, compression ratio, ignition system, exhaust system and the way you are going to ride the bike all have an impact upon the best cam to select. If head work or pistons are not in your budget, then your choices are limited to bolt-in cams. Even limiting your cam selection to a bolt-in cam provides you with a wide choice of options. Most bolt-in camshafts are intended for use with bikes and engines that have few modifications. The minimum requirements for a bolt-in cam is usually a re-jetted carburetor, a high-flow air cleaner and a less restrictive exhaust system.
Make sure you match your riding style or needs to the the horse power and torque characteristics of the cam. The biggest mistake made in cam selection is getting to much cam for the bike, the way it is ridden or the components on the bike. A good set of pipes, some minor upgrades to the CV carburetor, a good ignition system and the right cam can produce around 75 HP when properly tuned.
Bolt-in Cam Selector
In order to simplify your selection of a camshaft, the Motorcycle Performance Guide created a list of the most bolt-in camshafts for Harley-Davidsons. Find the type of bike, the riding style and your favorite cam manufacturer. A list of recommended camshafts is given.
If you ride a heavy bike like a Road King or always ride two up, you should place more emphasis on having the engine produce good low end torque. If you have a light bike like an FXR or Dyna, and you want a lot of top end power, a mid-range power cam can be used. If you usually ride your bike in town, choose a camshaft for low end torque. If you have your choice between horsepower or torque for engine characteristics, the best decision is to go for the torque cam.
As a general rule, cams with 220-235 degrees of duration tend to produce good low end torque. Cams with 235-250 degrees of duration tend to work best in the mid-ranges and cams over 260 degrees work best for top end power. Camshaft overlap duration less than 30 degrees tends to produce good low end power. Lobe Separation Angles (LSA) of 100-103 degrees tend to produce power at the low end.
Cams with valve lifts .500 inches and under, with a duration under 250 degrees are generally considered bolt-in. Cams over .500 inches lift and 250 degrees duration require increased compression and head work to work best.
Don't think you are going to take your stock bike and turn it into a 100 HP monster by adding a cam, replacing the carburetor and putting on straight pipes. Getting an 80 inch Big Twin engine to produce 100 horsepower at the rear wheel is difficult, time consuming and quite expensive. You are much better off bolting in a Crane Fireball 310, an Andrews EV-27 or a V-Thunder EVL-3010 in your street bike than trying to find a long duration cam because you have been told 'bigger' cams makes more horsepower. A well designed and tuned engine combination, using a mild bolt-in cam is quite capable of embarrassing most other Harley's between stoplights. 100 horsepower is not very useful if the engine does not make power until 6000 RPM. Harley-Davidson Big Twin engines were not designed to take that kind of abuse. An engine with 70 HP at 4800 RPM and 85 foot pounds of torque at 3200 RPM can be a real thrill compared to a stock EVO motors.